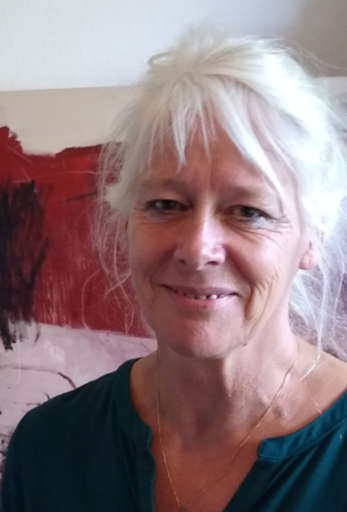 Naast andere werkzaamheden ben ik (Vonne van der Meulen, geboren in 1958) als autodidact begonnen met schilderen en tekenen.
Daarnaast heb ik in die periode ook schriftelijke scholing gevolgd, zoals modeltekenen (aangevuld met modeltekenen naar levend model) en illustratief tekenen/ schilderen.
Later heb ik mij verder geschoold middels de opleiding Kunstzinnige Therapie aan Academie De Wervel en de opleiding tekenen en schilderen aan de Vrije Akademie de Leuwenburgh. Ik heb Digitale schilderlessen van Adele Sypesteyn gevolg en van Jenny Nelson. ( abstract painters)
Enige tijd heb ik een praktijk voor kunstzinnige therapie gehad. In die tijd was mijn eigen werk meer op de achtergrond aanwezig en was ik er niet op gericht mijn werk zodanig af te ronden dat ik het naar buiten zou kunnen brengen. Vanaf 2016 is mijn eigen werk steeds belangrijker geworden en ben ik meer mijn eigen stijl gaan ontwikkelen. Mijn werk was aanvankelijk zowel figuratief als abstract. Gaandeweg ben ik me echter steeds meer gaan richten op abstract werken, waaronder abstracte landschappen.
Het werken met olie en cold wax heeft hier veel invloed op gehad (met name met betrekking tot structuur en gelaagdheid). Ook met acryl mixed media ben ik hiermee verder gegaan.

Naast de op mijn website getoonde werken zijn er ook werken te vinden op Mijn instagram account
Ook kun je mijn werk vinden op kunstRUIM, zie: hier.
In 2021 won ik de Power of Creativity Art Prize, van Comtemporary Art Curator. Meer informatie kun je hier vinden.
Vanaf maart 2020 zijn er ook werken van mij te vinden in het digitale magazine van Gallery M&Art agents (pagina 123 t/m 125), zie hier.
Vanaf 27 mei 2023 neem ik deel aan Pakje Kunst Amsterdam met daarvoor gemaakte kleine werken.
In 2023 won ik the prestigious Harmony for Humanity: The Global Consciousness Art Prize : van Contemporary Art Collectors zie hier
Vanaf 2023 is er werk te vinden van mij opo Modern Dutch Art
Zie hier
English version:
Beside other activities, I've started painting and drawing as an autodidact. Furthermore I've attended to a correspondence course in model drawing – including model drawing with a living model – and illustrative drawing and painting. Later on, I studied Art Therapy at Academie De Wervel in The Netherlands, I studied drawing and painting at the Vrije Akademie de Leuwenburgh in Amsterdam. and follow digital art lessons from Adele Sypesteyn.
For some time I had a practice for art therapy. During this time, my own work was more in the background, and I wasn't focused on finishing my work in a way that it was ready to be shown to the outside world.
My own work became more important in 2016, and I started to develop my own style. In the beginning, my work was both figurative and abstract. Gradually I began to focus more and more on working abstract, among which belong abstract landscapes.
Working with oil and cold wax influenced my way of working a lot, mostly concerning structure and working with layers. I also started working with acryl mixed media.
Beside the works that are shown on this website, you can also view my works on My instagram account
You can also find my work at kunstRUIM, see here.
In 2021, I won the Power of Creativity Art Prize, from Comtemporary Art Curator. For more information see here.
Also, there are a few works of mine in the digital art magazine of Gallery M&Art agents (page 123 till 126), see here.
From 27-05-2023 I participate in Pakje Kunst Amsterdam with small works
In 2023 I won the prestigious Harmony for Humanity: The Global Consciousness Art Prize van Contemporary Art Collectors see here
From 2023 you can also finf work from me at Modern Dutch Art
Look here